Call for Abstracts- Ajman 4th International Environment Conference - Smart Cities, Green Infrastructure ....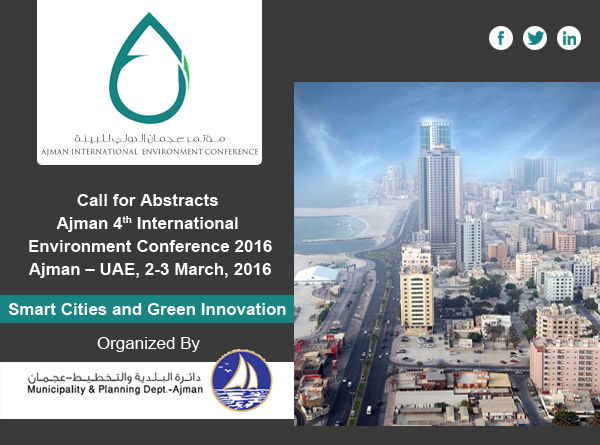 Under the patronage of His Highness Sheikh Humaid Bin Rashid Al Nuaimi, Member of the Supreme Council, Ruler of Ajman, the Municipality and Planning Department and the Organizing Committee are inviting researchers to submit their research proposals to the Ajman4thInternational Environment Conference.
Keynote Speakers

Steffen Lehmann

Head of School, Professor of Architecture
Curtin University
Australia

Rebecca Trueman

Chair, Applied Science and Environmental Technology
Algonquin College
Canada

Miklas Scholz

Professor and Chair in Civil Engineering
University of Salford
United Kingdom

Joseph Hobbs

Professor, Department of Geography
Director, Vietnam Institute
University of Missouri
United States
The Ajman 4th International Environment Conference will focus on how communities and businesses implement innovative green practices toward the realization of a sustainable future. In its fourth year, scientists, experts, and decision makers will convene again to focus on shifting the paradigm on sustainability so that it is viewed as a value-adding framework in technology and business. Processes for innovation will be explored with a focus on customizing green practices to the unique environment of Ajman, the UAE, GCC countries, and the Middle East.
The conference features engaging breakout sessions that will reignite passion for innovation and showcase the practices that are being implemented across the business and technology space. The trade fair is an excellent opportunity to connect with colleagues and exchange ideas, gaining valuable expertise needed to contribute to decision-making on implementation of green practices, using eco-efficient technology, managing the carbon footprint, and supporting the expansion of environmentally friendly initiatives.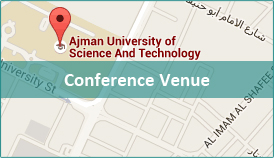 Sheikh Zayed Centre for Conferences
and Exhibitions, Ajman University of
Science and Technology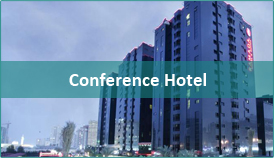 Paid participants will enjoy a
group rate at Ramada Hotel
and Suites Ajman
Conference registration fees include:
| | |
| --- | --- |
| • | Conference package |
| • | Unlimited access to conference and trade fair |
| • | Selected research papers will be guaranteed free publication in indexed international peer reviewed journals (Selection based on reviewers' recommendation) |
| • | Meals and refreshments during the conference |
| • | Social events (Gala dinner and sightseeing tour). |
| • | Free UAE entry visa if applicable and subject to UAE authorities' approval. * |
Fees
Conference registration fee for all participants/guests/spouses

$200 *
Conference Tracks
Smart Cities
| | |
| --- | --- |
| • | Building and Advancing Smart Cities |
| • | Planned Legislation and Policy Statements |
| • | Smart Growth and Green Business |
| • | Carbon Footprint |
| • | ecologically significant lands and suitable development areas |
Green Infrastructure
| | |
| --- | --- |
| • | Green Building |
| • | Renewable Energy on Contaminated Land |
| • | Smart Water |
| • | Greenspaces Network |
| • | Ecologically Significant Lands and Suitable Development Areas |
Land, Waste and Emergency Management Innovations
| | |
| --- | --- |
| • | Clean-up Technologies |
| • | Pollution Prevention |
| • | Land Revitalization Methods |
| • | Risk Management |
| • | Green Chemistry |
Best Practices
| | |
| --- | --- |
| • | Green Transportation |
| • | Environmental Health |
| • | Green IT |
| • | Sustainable Agriculture |
| • | Green Chemistry |
Funding Opportunities
Authors of top 20 research papers selected by the scientific committee will receive the following sponsorship:
| | |
| --- | --- |
| • | Conference fees waived (including all benefits of registered participants) |
| • | Guaranteed free publication in indexed international peer reviewed journals |
| • | Hotel accommodation |
| • | Airport transportation |
| • | Transportation to and from the conference venue |
| • | Free UAE entry visa if applicable (subject to UAE authorities' approval) |
Abstract & Paper Submission
Abstract should not exceed 250 words and should contain title, author/s names, full address, and email address. Please specify the conference track of choice. Include at least four keywords. Full papers submitted to the conference have to follow author's guidelines found here [
LINK
]
Important Dates
| | |
| --- | --- |
| • | Abstract Submission Deadline: November 1st, 2015 |
| • | Abstract Acceptance: November 25, 2015 |
| • | Final Paper Submission Deadline: December 20, 2015 |
| • | Presentation Submission Deadline: January 5th, 2016 |

Copyright © 2015 - Ajman International Environment Conference. All Rights Reserved
Assist. Prof. Dr. EMAD HANI ISMAEEL
Ph.D. in Technologies for the Exploitation
Faculty Member in the Dept. of Architecture
College of Engineering , University of Mosul
Tel : +964 (0)770 164 93 74